the premium Kawane green tea
The affluent nature and landscape in Kawanehoncho produce the premium Kawane green tea.
Kawanehoncho is a small charming town located the foothills Southern Alps in Japan. Despite the isolation from the city causes some inconvenience in the day-to-day life, this town is gifted the scenic natural environment.
Kawane is blessed with the terrain and climate just ideal for tea plantations and is proud to produce top quality green tea in Japan.
Kawane green tea, a produce of this town, has always been awarded a high rank in Japan's Tea Competition.
Premium brand Kawane Tea is the product of the collaborative efforts of passionate tea farmers and the expertise of tea masters.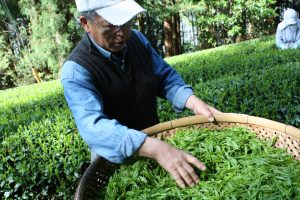 Sawamotoen delivers only authentic Kawane tea carefully nurtured by the selected local farmers at our own tea garden. Our tea is blended 100% pure local Kawane tea not one from other region. Most the tea leaves are handpicked and processed using traditional methods to finish the tea with the greatest flavor, fragrance and appearance as authentic Kawane tea.
The production is limited as the tea leaves are cultivated only within the visible range. But we are committed in providing the healthy and secure tea by minimum use of pesticides and thorough management of the tea garden.
Tea is processed at a small plant but with automatic machines under fresh and hygienic conditions. Processed green tea is packed then and there and immediately stored in humidity controlled refrigerators.
Despite green tea's vulnerability to the changes in climatic conditions, we put our greatest efforts in delivering products above a certain level of quality. Besides, we conduct the composition analysis of tea using the analyzing instrument within Sawamotoen, in addition to the sensory evaluation by our experienced, professional tea masters.
We hope that you will relish the rich taste of the Kawane tea offered by Sawamotoen.
Sawamotoen Co., Ltd.
261 Tashiro, Kawanehoncho, Haibara-gun, Shizuoka 428-0416 Japan
Phone:+81-547-59-2136
FAX:+81-547-59-2238
E-mail:info@kawanecha.co.jp
Sawamotoen started the tea business way back in 1830, here at Kawane.
The business records in earlier time is kept by Sawamoto family.